Working Visits & Vegan Potlucks at Cedar Row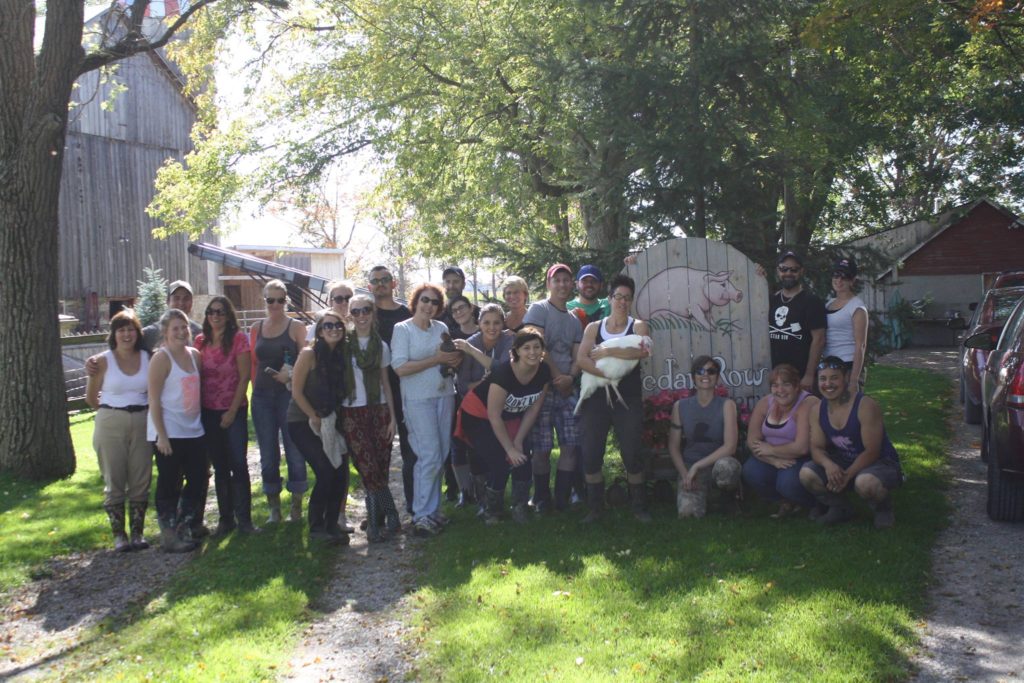 Working visits are a great way to see the sanctuary, get to know the animals, and lend a helping hand. There is A LOT of work involved in running a farm sanctuary and we rely heavily on volunteers to help us care for the animals and keep their homes clean and functional. Working Visits are less frequent in the winter months and more frequent during warmer months but they all end with an amazing Vegan Potluck! Check out our calendar at the bottom of the page for upcoming working visit dates.
If you plan on coming for a working visit, it's important to keep a few things in mind:
Working visits run from 11:00 am to 2:00 pm, followed by a Vegan Potluck immediately afterwards. Please arrive no earlier than 11:00 am for the work visit as we need time to prep the farm, the tools (and ourselves!) before volunteers arrive.
Please ensure you bring proper footwear; this means calf-high rubber boots in the spring, summer and fall & insulated rubber boots or waterproof winter boots during colder months
We encourage you to bring your own work gloves suitable for medium-duty work
Please bring a reusable container for water as we do not have bottled water on site. We do, however, have potable water for you to fill up your water bottles
Wear appropriate clothing for the season; cooler work clothes in the warmer months with proper sun shielding (hats, sunglasses, sunscreen, etc.) and layered warmer clothes in the colder months.
If you're a high school student who loves animals and is in need of volunteer hours, we will happily sign your forms.
It's important to remember that these working visits are vital to keeping our sanctuary running. If you volunteer for a working visit, please make every effort to come on the day you've signed up for. We often turn away people due to the number of people who have already RSVP'd and by not coming, it denies people who want to come a chance to volunteer. Additionally, if you cannot make it, please provide as much notice as possible so we can make arrangements for other volunteers to take your place.
Because there are no paid staff at Cedar Row Farm Sanctuary, public visits just to look at the animals are not possible and Cedar Row is not open to the public, however we do have two open houses twice a year; one in December and one in July that you are welcome to attend with children of all ages. Unfortunately public visits take away from the time needed to properly care for the animals. After the working visit ends at 2:00 pm, you are welcome to spend time with the animals and get to know them better; they love the attention! Working visits are a great way to help out and you'll also see how farm animals interact with each other, and see that they all have their own personalities. The working visits can be tough physically but the experience is always personally rewarding.
~ Cedar Row Farm Sanctuary is not only a safe space for our animals but for our human visitors too. We ask that you enter our space with a commitment to mutual respect, mutual aid, anti-oppression, advocacy, conflict resolution, non-violence and community building.  Intimidation & bullying will not be tolerated.~
**Please Note: You are welcome to bring children to the farm, but they must be older than 12.**
Vegan Potluck
After each working visit we have a delicious vegan potluck. Please bring a vegan (no meat, no eggs, no dairy, no honey) dish for 10-12 people. Not sure what to bring? Some popular items often include wraps, sandwiches, warm rice/quinoa dishes, soups, various cold salads, beautiful ethnic dishes, and desserts. If you're still stuck on what to bring, check out these great blogs by Dreena Burton, Oh She Glows, or check out some other vegan food blogs for ideas on what to bring for the feast! This is a great time to sit down together and enjoy each other's company while admiring the work you've done that day. For more information on what's considered vegan, please check out VeganKit.com.
Calendar
Please see the calendar below (work visits are in pink) and make sure you send us an email to RSVP! As a reminder, we also have two an annual open houses; one in December and one in July that you are welcome to attend with children of all ages.
Sun
Mon
Tue
Wed
Thu
Fri
Sat

River Rock Music Festival

12:00 pm

River Rock Music Festival

@ Lucid Musings Photo Studios

Aug 15 @ 12:00 pm – 10:00 pm

What: River Rock Music Festival When: August 15th, 2015 Time: 12:00 PM to 10:00 PM Where: 1932 Thames Road, St. Mary's Ontario Cedar Row will be tabling at the River Rock Music Festival in St.[...]

FULL – August Work Visit

11:00 am

FULL – August Work Visit

@ Cedar Row

Aug 29 @ 11:00 am – 2:00 pm

THE AUGUST WORK VISIT IS FULL – WE WILL HAVE MORE DATES IN SEPTEMBER AND OCTOBER SHORTLY. Please join us on Saturday, August 29th from 11am until about 2pm for a work visit. This event[...]