Cedar Row has been in existence since 1999, making it one of the oldest farm sanctuaries in Ontario. We have rescued thousands of animals over this period of time, each of whom holds a special place in our hearts. Siobhan and Peter Poole run Cedar Row with their two children, Patrick & Cicada and a dedicated group of volunteers.
Cicada & Patrick Poole circa 2005
Cedar Row did not originally set out to become a Farm Sanctuary; we had been doing wildlife rescue in Stratford and had decided we wanted to move out to the country. We had thought we would continue with wildlife rescue, and had no awareness of the "farm sanctuary" movement at the time. We very quickly got word that local animal rescue groups were looking for homes in which to place farmed animals who were removed from cruel situations. We had the property and knew we wanted to help - little did we know that providing a place of rescue and sanctuary for farmed animals would become our full time focus. One thing we learned very quickly was that we did not have to go looking for animals, they would find us one way or another!
Inside the barn
Looking Back at Some of Our Earliest Rescues
The first rescue we were involved in took place shortly after we moved out to our current location, and while Siobhan was pregnant with twins! We were asked to take in six male goats who we had been told were "pygmy" goats, but it turned out that they were just malnourished and sick. They had been found stuffed in rabbit cages with no food or water! Even the vet believed that they were a smaller variety of goat, but once they received the care and nutrition they needed they each grew to be over 200 pounds! The farmer who had neglected these goats was eventually charged with animal cruelty.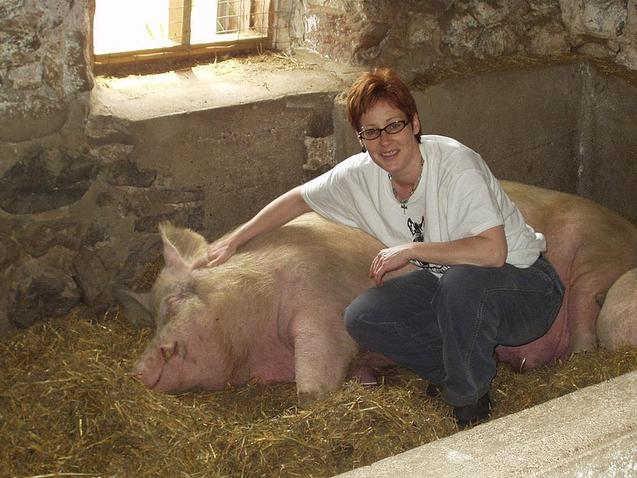 Big Tom and Little John were the first pigs we took in. They were part of a classroom project intended to teach students about animal care. The teacher's husband was a pig farmer, so two of his piglets were brought to the class for this project, but the plan was that afterwards they would go to slaughter. One of the students, a vegetarian, was very upset about this plan and put the plea out for someone to give these two pigs a different kind of ending - we ended up taking them in at Cedar Row, and they lived long, happy lives with us. In fact, Big Tom reached an whopping 1000 pounds and remains the largest pig we've ever housed.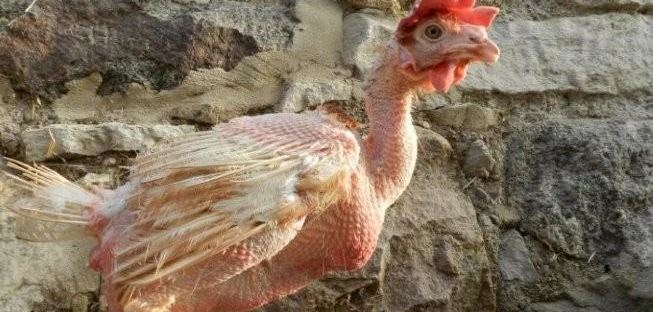 Our first large-scale rescue was of "spent" battery hens. We heard about a local farmer who decided to "clean out" their barn of battery hens. We worked with another animal advocacy organization and got 125 hens out. This rescue turned out to be a lot of work for us - we had many homes lined up for these hens, but one by one many people started backing out of their commitments to take these birds in so a lot of them ended up staying at Cedar Row Farm Sanctuary. We ended up with hens all over our property! It was a ton of work and it taught us a lot about what was involved in large-scale rescues. Every September we rescue battery hens from this particular farm. There are usually 30,000….. from one barn…… on one farm. It's almost overwhelming to think about the lives lost from the hens that can't be rescued. This scenario plays out around thousands of farms across the country and not all have the chance at being rescued. If you're at all interested in taking in battery hens, look for our social media postings starting in late August. Battery hens make a great addition to any family, by-law permitting of course.
Another large rescue we dealt with early on involved rescuing a number of potbelly pigs from a backyard breeder. We later found out that five of the pigs were pregnant - 30 piglets were born within a 3 week period, but sadly only 20 survived. We had to get all the piglets spayed/neutered (we charged the cost of these surgeries back to the breeder) and find homes for them. Our kids were only 4 years old at the time, so it was quite a balancing act looking after these 20 piglets and twin toddlers at the same time!
Building Fences and Building Community
A lot has changed on our farm in last 15 years. For example, at first there was no fencing on the property at all - we were certainly not set up for the kinds of animals we take in now, and our first goats started off in the shed we now use for our potlucks and education events.
It took a few years before we opened our farm for public tours, open houses, and work visits. This meant that we were doing all of the work around the farm by ourselves in the early years of Cedar Row Farm Sanctuary. We were also new parents in those early years, and quickly learned how challenging it can be to raise kids and do Sanctuary work at the same time. In the early days we would hire a babysitter so that we could go out to the barn by ourselves to clean - that was our idea of a date at the time! It gave us time alone together doing meaningful work, and luckily we found it to be much more interesting and rewarding than going to the movies.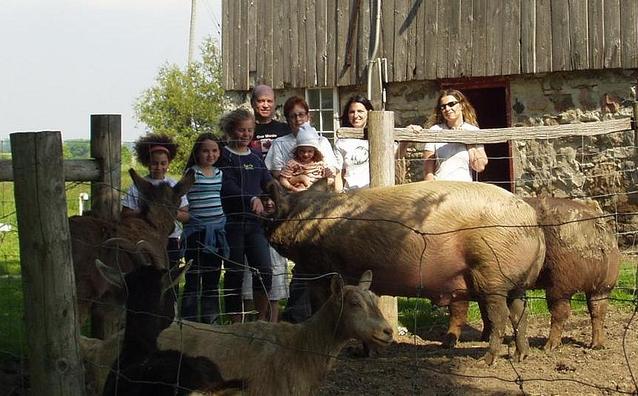 People started coming out to the farm to visit and help out in the last 6-7 years. Our first open house was 5 years ago, and it took place on a cold, wet October day. In spite of the weather about 100 people showed up, which indicated to us that there was a great interest in what we were doing at Cedar Row Farm Sanctuary. Our 2015 summer open house was held on July 11th and had over 450 attendees; the numbers keep growing.
The people living around Cedar Row (mostly on beef and dairy farms) didn't really understand what we were doing at first. One neighbour, a dairy farmer, told us that our efforts were a "waste of time." We have actually heard this a lot - many people think that our efforts won't make a difference, but we disagree. We don't feel that running a Sanctuary for farmed animals is a waste of time at all - it is important! Of course we cannot save every animal, but we have made a difference to a number of individual animals, we have given them a new lease on life and an opportunity to live out their days in comfort and peace. We also provide opportunities for people to come and meet the animals. We feel that meeting the animals is an important part of getting people to think about the ways in which their day-to-day choices can either help or harm animals. We know that this is an important form of activism.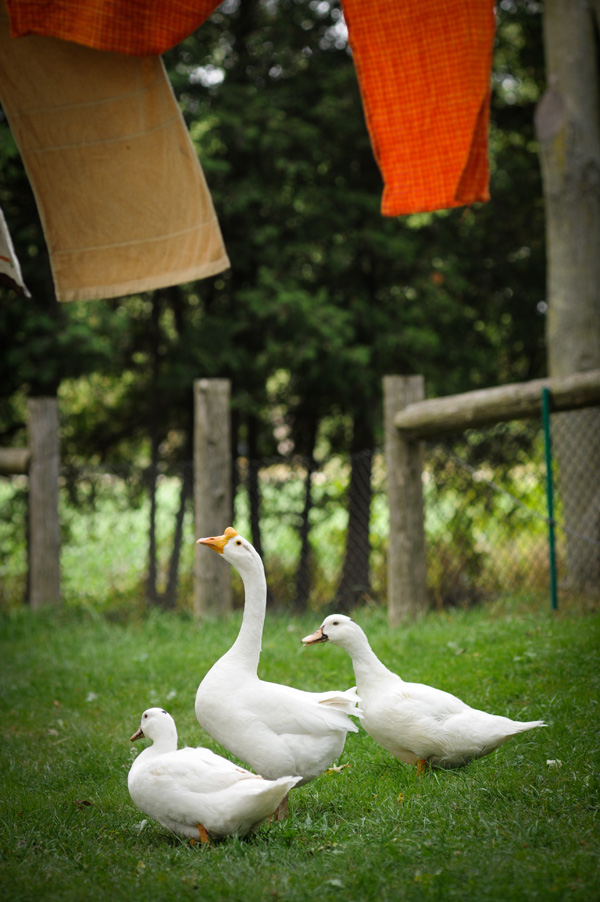 Now that we have been in operation for nearly 17 years, our relationship with our community has changed. We get along well with our neighbours and it seems that many people living in our community have respect for the work we do at Cedar Row Farm Sanctuary. We may not always see eye-to-eye on all issues, but many people in our community are supportive of us and want to help in ways they thought they never could. For example, for the past several years our local grocery store has set aside fruit and vegetables that they can not sell for our pigs - the food does not go to waste, and the pigs get a wide variety of nutritious food, better than on any factory farm.
Food from our local grocery store
We have an excellent working relationship with the vets at the Tavistock clinic. We work closely with two vets, Paul House, a small animal vet who knows a lot about all kinds of things related to animal health care, and Al Scorgie, a pig vet. We have learned a lot from these vets, but they have also learned a lot from us. They have never had to deal some of the ailments that our animals encounter as they age because normally farmed animals do not have a very long life expectancy. It has been both educational and eye-opening for them.
Every Animal Has a Story
Working with the animals is the most rewarding part of operating a Sanctuary - it is the animals that keep us going during the tough times. They all have their own personalities, and each has their own unique story. For example, just looking at Jimmy, one of our farm pigs, brings a smile to my face. Jimmy had a rough start to life - he was born on a truck loaded with sows destined for slaughter and never had a chance to know his mother. He was supposed to be killed, but ended up at Cedar Row Farm Sanctuary and is now one of the happiest pigs you will ever meet.
Jimmy
Joaquin is another pig that came through some rough times. He was only two weeks old when he came to Cedar Row Farm Sanctuary. When he was only a week old his mother stepped on him, injuring his spinal cord. He only had one good leg when he arrived and was unable to walk. We treated him with laser therapy and acupuncture, and worked to help him learn how to walk with his injury. He is thriving now, and every single day we make sure to give him a big scratch (which he loves) on the scar that runs along his spine, a physical reminder of his rough beginning in life. In face, one of our first big fundraisers was for a large concrete poured concrete pad so that Joaquin could learn to walk more easily on concrete than he could in the mud. They were expensive walking lessons but worth every penny.
Joaquin
We are a small Sanctuary and can not possibly keep every animal who comes through our doors. We do the next best thing - we bring them in, get them the healthcare they need, and then look for homes to place them in. It is hard to let them go, but realistically we can not keep them all. This is a hugely important lesson when running a sanctuary; you cannot save every animals and you cannot keep every animal. It is the hardest lesson someone in our position needs to learn.
One of the hardest parts of running a Sanctuary is facing the inevitable, the death of the animals we have come to know and love. While it is never easy saying goodbye to an animal at the Sanctuary, some deaths have hit us harder than others. For example, when Puddles, one of our pigs, died, it was absolutely devastating because it was unexpected. He had just had his tusks trimmed (a routine procedure), and then died a few days later of a suspected infection. Death is a difficult reality we have to face regularly at the Sanctuary. We take comfort in the knowledge that we have done the very best we can for each and every animal that comes to Cedar Row Farm Sanctuary. When they die we allow ourselves time to grieve, but we then have to pick ourselves up and carry on, we have to be strong for the next animal that comes along. Our animal friends who have passed away are buried on the farm they called home. As sad as it was to lose them, we take comfort in knowing they're still with us every day in one form or another.
The Importance of Sanctuaries 
We have saved lots of animals from going to slaughterhouses. We also have helped many people make the connection between the animals they meet at our Sanctuary and the animals that end up in our food system. There is no difference, in other words, between the piglet who enjoys having her belly rubbed at Cedar Row and the piglet that ends up being slaughtered for bacon. We hope that when people come out to our Sanctuary they come to understand this sentiment for themselves; because once you spend time with a rescued animal and look into their eyes, you are forever changed.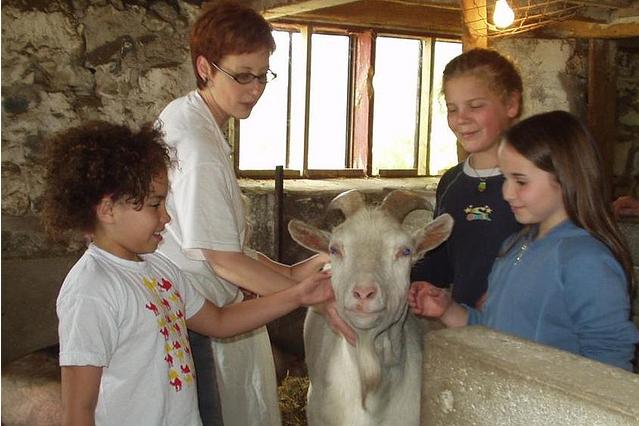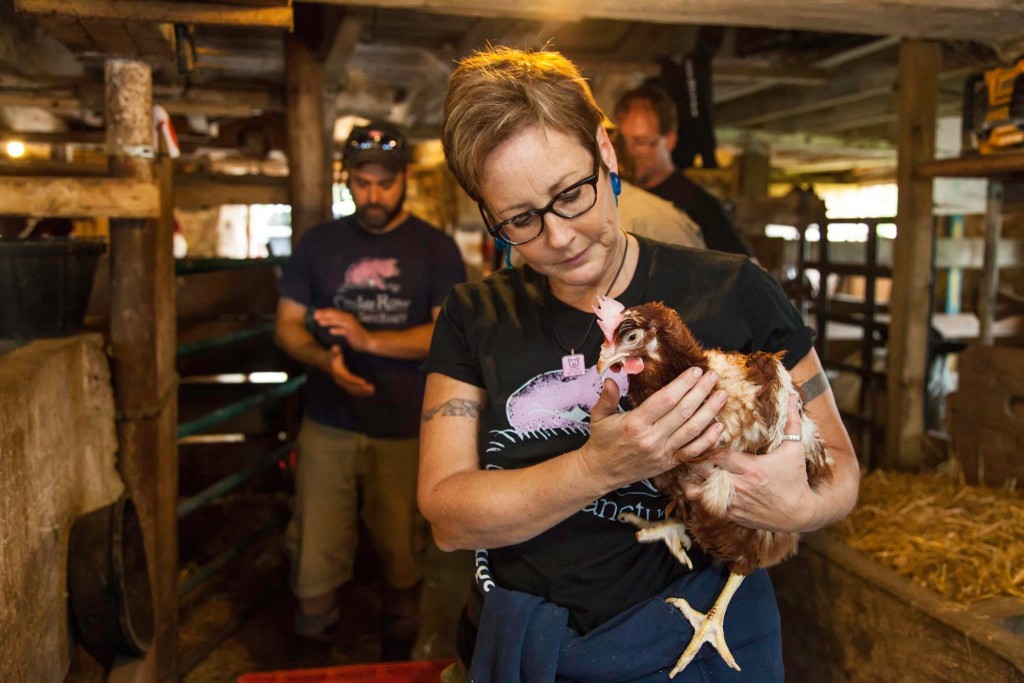 Cedar Row Farm Sanctuary has no paid employees; besides Siobhan and Peter (and their two 16-year old twins Patrick and Cicada), a small army of dedicated volunteers help out with chores, animal feeding, special events, work visits, fundraising, communications and social media.
Volunteers after a work visit
Any donations we receive go right back to the rescue and care of the animals at the Sanctuary. Running the Sanctuary is a labour of love, and we are out there working with the animals 7 days a week, 365 days a year. It isn't possible to "call in sick." It is hard work, but it is rewarding work - knowing we are making a difference for animals makes it all worth it.
The Poole Family