View Cart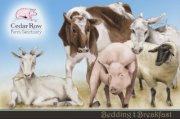 Cedar Row Farm Sanctuary is continually in need of funds to pay for hay and straw that feed and bed the rescued animals at our sanctuary. We bought 1,500 bales of hay and 500 bales of straw last year and the need continues to grow every year.
[wp_cart:Bedding_and_Breakfast_Postcard:price:10.00:shipping:0.00001:end]
For a $10 donation, we will mail you a beautiful, limited-edition postcard that you can keep, or give as a gift. It makes a wonderful gift for the person who already has everything! It's great for holidays and birthdays, to give to teachers, bus drivers, or if you're going to a party and you'd like to bring a hostess gift.
On the back of the card, it says
Dear _______

We decided to help buy hay and straw for some rescued farm animals in your honour.

A $10 donation has been made to Cedar Row Farm Sanctuary, a home for neglected and unwanted farm animals.

The sanctuary animals are ambassadors, sending out the message that each and every one of them deserves our understanding,respect, and compassion.

If you are interested in purchasing a postcard, click the donate button on the left (on the sidebar), pay for as many postcards as you'd like, leave me a message that it's for the Bedding & Breakfast Fundraiser, and your address and I will send them out ASAP.

Please share this page to as many people possible, so we can raise the much needed funding to pay for our hay and straw.

Sincerely,
Siobhan & Peter Poole
The stunning work of art depicted on the front of the postcard was painted by Tara Hall. In the picture from left to right is Eric, Charlie, Puddles, Willie and Paul the sheep; all were rescue by Cedar Row thanks to your generous donations.
Promote this fundraiser by sharing on Facebook!